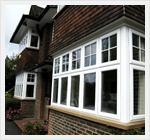 Sunseeker manufacture a choice of casement profiles in both 62mm and 70mm systems, with both chamfered and sculptured options. There is also a high degree of interchangeability between systems to give the optimum choice.
Systems are available to accept 24, 28 and 32mm sealed units and there are profiles for bead choices including chamfered, scotia and ovolo shape designs. In addition a secondary weather seal on the beading gives improved performance.
Where a WER A rating is required for casement windows, a unique design on thermal insert is available for the outerframe reinforcement chamber which means a U value of just 0.8 wm2/k is achievable.
Sunseeker Windowss' casement profiles have been independently assessed and have BS kitemark accreditation and achieve BS7950 Enhanced Security and BS6375 wind and water testing (Classification: severe)
So, whether you choose Rustique or System 10 profile options from Sunseeker Windows you can be sure that you will be fitting one of the most versatile and highest quality casement windows on the market.